Leena Kayon
[[1]]
Info

Homeworld

Mars

Date of Birth

14?10/2180

Date of Death

2208

Species

Human

Gender

Female

Hair Colour

Blondish Brown

Eye Colour

Green

Affilation

Taul'ra Expedition

Family

No information
Write the first paragraph of your article here.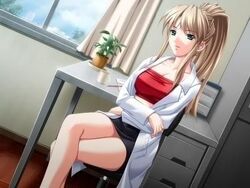 Appearance
Edit
Write the first section of your article here.
Biography
Edit
Leena married an Anakadian Ashiro Kayon and gave birth to their son, giving him a human name Daniel. In the early 2200s, nearing the coming end of the long Zan Ghoul war she was sent on a expedition to create a virus against the Zan Ghouls but their mission almost failed when they were ambushed. Fear of losing her son she sent Turaku to the hibernation chambers with her son to keep safe from harm. When the Zan Ghouls boarded the Blue Fortress she released the virus that was nearly completed, giving her life for her child to life.
Personality
Edit
Leena was described as a caring person, however when knowing her son did things his father had done at his age or tryinng to get him out of bed she would
Relatives
Edit
Ashiro Kayon (Husband-Deceased
Daniel Kayon (Son)
Kumichiyu (Brother-in-law)
Ad blocker interference detected!
Wikia is a free-to-use site that makes money from advertising. We have a modified experience for viewers using ad blockers

Wikia is not accessible if you've made further modifications. Remove the custom ad blocker rule(s) and the page will load as expected.